Finally..Our Online Sign-ups for both the Fools Gold and Crazy Miner are now open!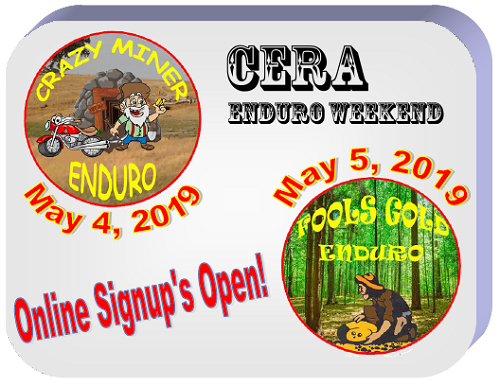 Ride one or the other, or better yet….Ride Both!
Crazy Miner Family Enduro, Round 2 of the 2019 SRT District 36 Youth Family Enduro Championship Series
Fools Gold Round 3 of the 2019 SRT District 36 Championship Enduro Series.
Saturday's Crazy Miner is an event you can ride with your family and as a warm up for the full enduro on Sunday so bring the family.
Join us for the weekend of riding and camping in the national forest.  And the best part is there are no gate or camping fees!  You will need to get a fire permit if you want a campfire or are using a portable outdoor stove.  Get your permit online here or at the Georgetown Ranger Station 
Avoid the rush at the Enduro! GET ENTERED EARLY!
Stuff to know:
Required to Ride:
Current Red, Green Or Out-of-State OHV Sticker Or Current Licence Plate
A Forest Service Approved Factory Or Aftermarket Spark Arrestor 
Your Riding Number/Letter (assigned by CERA) On Your Front Number Plate At Least 4″ high
Your Riding Number On A Helmet Sticker (supplied by CERA) On The Lower Right (throttle) Side Of Your Helmet (make sure you helmet strap doesn't cover it)
Dates:    May 4-5, 2019
Place:
Mace Mill Staging Area
Mace Mill Rd.
Georgetown, CA
Sign Up Hours:
Friday 3-5 pm / 7-9 pm
Saturday 7-9 am / 3-5 pm 7-9 pm
Sunday 6-8:30 am


(subject to change)

Key times:
Crazy Miner – 9:00 am
Fools Gold – 8:00 am
Crazy Miner – Fools Gold Flyer
Maybe you'd like to come up and help put on one or both of the meets?  We are looking for extra help and no experience is necessary – we train on the job!
If you're interested signup here:  CM-FG Volunteer